****Momma Told Me has switched to Rafflecopter Entry, please wait for the easy entry form to load at the bottom of the post. If you cannot see the form, please contact me on Facebook!
Momma Told Me:
Don't eat in bed!!!
Everyone's heard the classic cliche of a husband and wife fighting over cookie crumbs in the bed. Honestly, I'm the sort of old fashioned individual who still believes a bedroom should be the most electronic barren, relaxing, and luxurious places in one's home. I firmly believe that televisions have no place inside the bedroom, and, outside of use as an occasional alarm clock, neither do cell phones (after all, they're practically TVs these days). I think for couples this is especially important, but there have been equally as many studies and scientific findings that determine the ambient frequencies from, even off, electronics may disrupt your natural relaxation and rest. Now, I am also a realist. If you tell the average husband you're chucking the TV from the bedroom he'll likely omit going to 'bed' all together, and sleep on the couch. So what's the compromise?
In 1973 Mary Ella Gable predicted the bedroom was on the cusp of evolving into our homes central hub. No, she didn't foresee a Studio like civilization where people walked from their kitchens into their bedroom and ate every meal in bed (though not far off from some modern lifestyles). She envisioned a world of design focused on comfort and versatility, where the bedroom was as important to accent as one's wrist and neck. Her inclinations proved right, as we now live in a modern day where the bedroom is used for work, play, and relaxation. The busy lifestyles of independent woman, commuting businessmen, and multi-tasking parents require new type of linen collection. Mary Ella's
Peacock Alley
has become one of the world's leading luxury linen designers, featuring natural fibers, classic silhouettes and pleasing colors. Their linens span classic luxury to poignant elegance, appearing everywhere from 5 star resorts and hotels to modern home bedrooms, worldwide.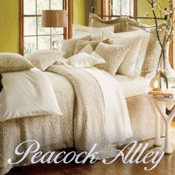 While I m that consumer Mary Ella envisioned, I have a confession to make; my bedroom is, perhaps, the most neglected room of my home. When I met my husband, a few years back now, he was moving out of his father's home and into his first apartment. Our first date was literally his first night on his own, and I (having been invited over for the house/apartment warming party) came over, never to leave. Now, there is something to be said for a woman who willingly moves in, and loves, a man who has never been on his own. The hubby admits he was a bit clueless, and that he loved how I would pamper and baby him by doing the laundry and cooking dinner. (I can't complain, I love doing those things for him). Our only problem was bridging the gap from 'bachelor pad' to 'married living'. In our tiny 1 bedroom apartment there was nowhere for either to go when we needed space, and this certainly seemed to turn our bed/room into an ll purpose center.


When we moved into our, ancient but still a house, house, we had more room than we knew what to do with. On a limited budget in the beginning, my nesting and decor efforts were focused on rooms that were visible to guests. Never would I have opened up our bedroom door to give a tour of the 'bedroom' featuring the hubby's lovely black bedding. However, recently I have begun dreaming of a transformation more comfort and compromise than shame. While we're working on accumulating new bedroom furniture, the room remains quite bare, and hardly the haven I seek at the end of a long day. The quickest way to transform a bedroom? A new duvet! Unlike puffy, light, or bulky comforters, a duvet can pull together existing bedding and offer a luxury finish that's warm and comforting at night. Peacock Alley has some brilliant examples of modern gender neutral bedding with elegant accents. Perhaps one of my favorite collections is the
Rio Collection
, with solid panels and rich colors made in the USA, and hand tailored.
In my opinion, luxury bedding is an investment best acquired piece by piece. True luxury bedding may cause sticker shock, but is sure to convert even the staunchest of critics with it's quality, detail, and texture. Not only will fine bedding and linens last a lifetime when cared for, but can often be interchangeable with other pieces for a flowing and fresh decor that never grows old. Peacock Alley has a distinguished selection of bedding collections that is diverse, yet not overwhelming. It's nice to find a company which focuses on quality in design and build, rather than mass selection and distribution. That's why you'll find every Peacock Alley duvet receives special hand stitching detail, and quality control processing. The company also manufactures
luxury bath
accents such as towels, robes, and mats; wonderful gift options for the especially picky recipient.
I selected a Rio Queen Duvet in Linen for review here on Momma Told Me. Measuring 90"x90", this duvet is made from 100% Belgian Linen and offers complimentary contrasting cording accents. The collection is available in a variety of neutral colors, and possibly the easiest to accent against existing bedding. When the duvet arrived I was shocked to realize how heavy a double layer of 90"x90" linen truly was. This is certainly not Target bedding- it's gorgeous! The warm and Earthy Linen tone was perfect for my animal prints, yet tame enough to remain masculine for the hubby. When I turn down the bedding at night with the Rio on, I love the elegant weight, and soft linen feel. One side of the duvet seems to be a single panel, while the flip side has 2 sharp seams I prefer to keep face up for the crisp finish I feel it gives.
The transformation has been nothing short of amazing, instantly brightening our room, and offering a luxurious finish I actually don't mind showing off! We received matching shams with our duvet, and they truly help tie in the colors, while adding extra dimension to our bed. I alredy have my eyes on Peacock Alley's timeless Duet II Collection, for sheeting, and hope to have completed our bed makeover soon. Not only do I value the quality and comfort of Peacock Alley, but the elegantly mature feel it has helped me to 'reclaim' my bedroom with. Now if only I could get rid of the hubby's lucky underwear...
What Daughter Says:
Peacock Alley creates a warm and inviting bedroom, through their quality luxury linen collections- but I still wouldn't eat in bed!